Teaching the Toss
PSA: A boomerang is not a frisbee. So, there's just a little more to it than that. Below are several commonly asked questions, and video content to help you learn to throw your boomerang correctly and have it coming right back to you in no time!
Boomerang Videos
How to Throw A Boomerang
Left-handed vs Right-handed Boomerang
Who Needs A Boomerang

The person who already has everything and you have their name for the gift exchange!
Anyone who throws things when they're mad. 
People who lose things (because these come back)! 
Anyone who loves laminated wood decor (buy one and hang it on the wall, and forget about it)!
Someone who doesn't have a friend to throw a frisbee with :(
Any engineer or engineering student, this will occupy them for hours!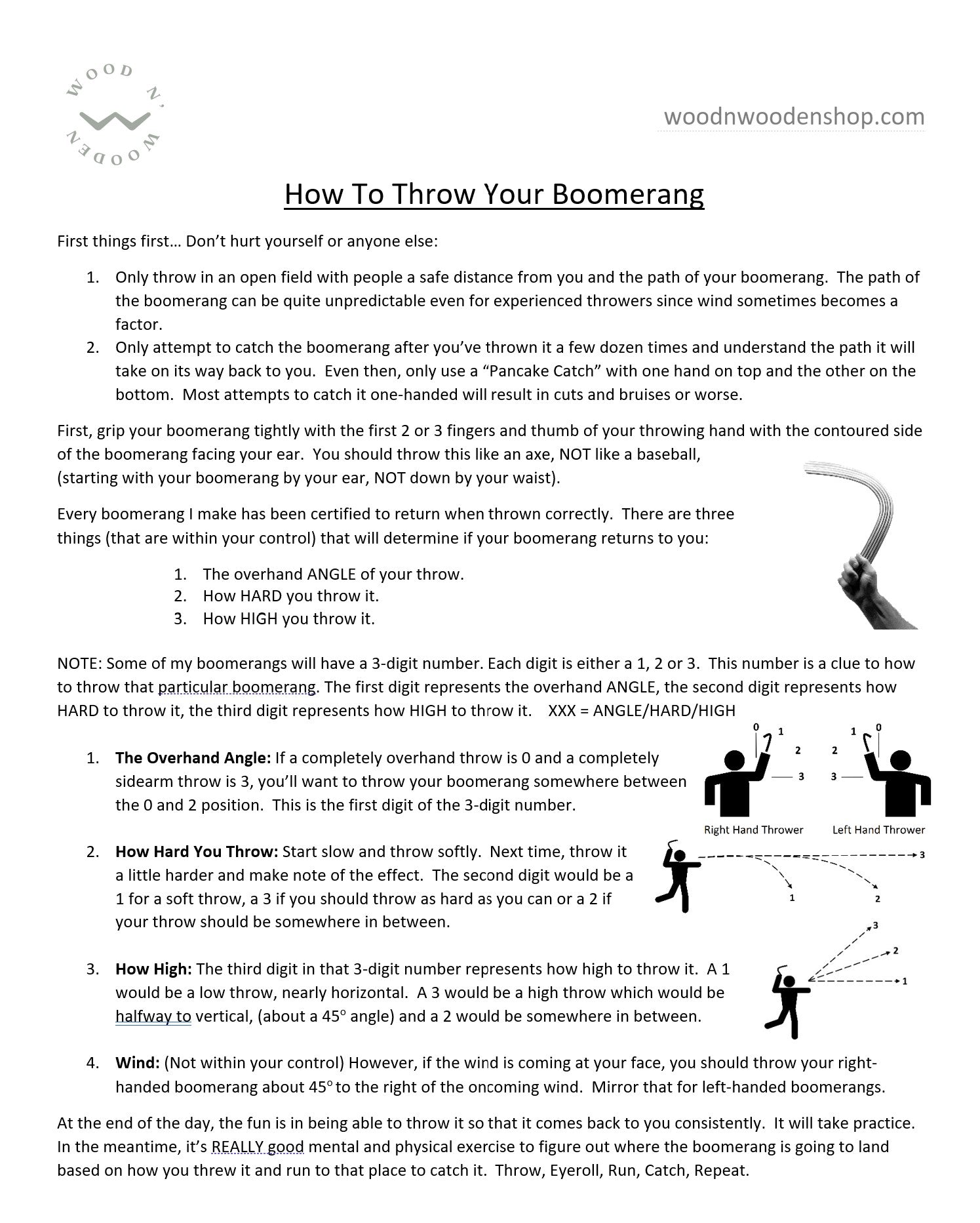 Frequently Asked Questions
Shipping

We use USPS 2-Day Priority Shipping. We ship to domestic and international locations. International postage must be agreed to in advance. Just shoot us an email and we'll quote it for you.
Returns

Returns are permitted within 2 weeks of the delivery date of your purchase. Please send an email to larry.a.gildea@gmail.com to obtain a return authorization number.
Sustainability

At Wood n' Wooden, we endeavor to use recycled or reused materials wherever we can while still producing a product that exceeds your expectations in every way.  The woods used in our product come from various sources including scraps from furniture manufacturers or odd sized boards from wholesalers that can't be sold in retail.  Once our boomerangs are made, we have people who pick through our scraps for materials for art projects and firewood for heating. We're not trying to save the world.  We're just trying to be good stewards of our little corner of it.
Where Should I Throw My Boomerang?

Your boomerang should be thrown in a wide open space, such as a football field, or park. People, concrete and cars, trees, etc. should be out of the way. Doing this will keep your boomerang from hitting others and help you avoid hurting others and your boomerang.
Why Isn't My Boomerang Coming Back?

Please view our boomerang videos in order to see the best ways to throw your boomerang to make it come back!
Please avoid throwing in >10mph wind, since it changes the trajectory of the boomerang and makes its flight path quite unpredictable!
What If My Boomerang Breaks?

This shouldn't happen if you are throwing your boomerang in a clear open space that is NOT above concrete! But in case it does, please go to the contact page, and send an email with a picture of your broken boomerang and some details on how it broke. All boomerangs will be replaced at Wood N' Woden's discretion on a case-by-case basis.